No, I am not all branding and digital. 
Here is a couple of crafty personal projects that warm my heart.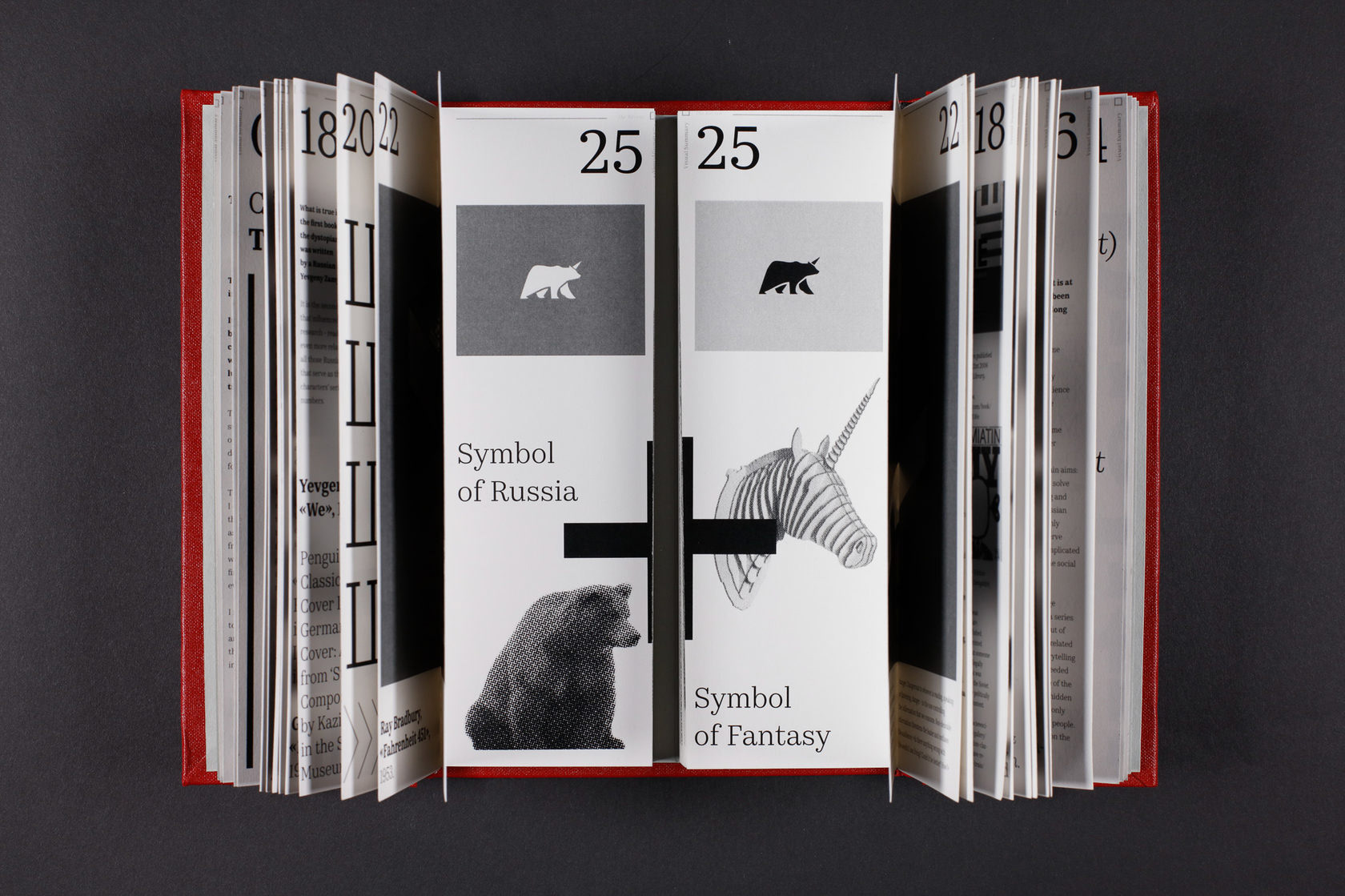 Russian Obedience Paradox
My Final Major Project at the University of the Arts London was dedicated to the national mentality of my dear home country. The final topic had been developing for a long time and is a logical continuation of the Major Project Proposal (Mentally Ill or Mentally Russian books below). 
The work consisted of the two outcomes. The one shown above is the Visual Summary, a collection of visual research on the topic mixed with graphic experiments in the context. To represent duality (in my case, 'duality' as in 'unity') as one of the key aspects of the final hypothesis, I used the book's construction. It is 'cut' in half along with the content, which can be read if the two parts are opened simultaneously. The design serves as a metaphor for the duality and inseparability: being abnormally obedient is one of the features inseparable from a Russian identity; the behavioural pattern is both a barrier and a historically evolved coping mechanism.
Mentally Ill or Mentally Russian?
Mentally Ill Or Mentally Russian is a series of the two books (The Major Project Proposal + The Visual
Summary) that aimed at summarising the work I have done throughout the second and the third term of MA Graphic Branding and Identity. As a logical continuation of the initial research topic (Mentally Ill Cities and Citizens), the two books contain the academic proposal with the further directions for the future brand identity project that will then develop from July until December 2018 + series of visual experiments and additional graphic explanations for a better understanding of the proposal. The books are entirely written, designed, printed and bound by myself. (Perfect binding + hard cover binding)
Transparent self (-branding)
There's a difference between design and art, and I will always argue that. All designers have moments when they suddenly want to feel themselves less down to earth and more into some vulnerable and sublime dimensions. So did I with the project. The laser-cut pattern on the bottom of the acrylic box copies the author's logo with encoded initials. The details inside the box were cut according to the logo-based grid; each piece is unique and can be given out as a business card. Here I am with my 'pure and transparent design. Take a bit of my design identity with you. Any other metaphors are also welcome.

Tomorrow Poster: daily poster challenge
When I was a graphic design student at Ranepa, my dearest friend Nastya and I decided that we don't get to design enough posters in our school curriculum. We challenged each other to create one poster a day, and that challenge lasted for an entire year. To be honest, I would give up anything to find the source files of those artworks, but it looks like the above selections are the only thing I'm left with.